Passage
Beginnings and endings. And the in-betweens. Constantly in motion. Interconnected. Always in transition. Always an adventure. Such is life.
Turned 38. Experimented with splash photography. Spent some time alone watching a beautiful gorge. Met new friends. Leveled up parenting skills with my son, Ken. Hibernated and began playing with plarail. Added Ishikawa ken to the prefectures that I had set foot on. And will be expecting a daughter in May. Such is my life.
Last September 11, I re-visited the nearest extant castle. Inuyama jo. Well actually, I was at the other side of the Kiso river and did not get anywhere near the honmaru or the tenshu for that matter. The sky was changing hues and right before my eyes was the most intense display of colour I have ever experienced here in Japan.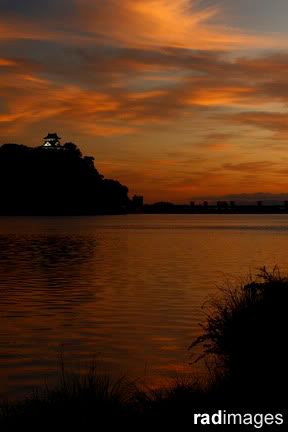 Here comes October. Again, I will be a year older. Although I have always wanted to become old, what I mean is that most of the time I imagine myself with white long hair and beard and sporting that "wise" look. I'm still enjoying my middle life and to a certain point still am a grown up boy. Now, don't get me wrong, I am living up to my age. As a matter of fact, I told Rya to skip "the cake & blowing the candle" part and have a simplier birthday dinner with udon & shrimp tempura. Am I not knocking on wisdom's door? Or should I wait for at least another 10 years?
Mamalou was planning to visit the Philippines. Rya thought it would be the perfect time to go back, bond with family and return to Japan with Ken. I was then left alone for almost a month. Almost a month! What was I suppose to do? Alone. I was not just going to stare at a white ceiling, those weeks were full of heavy rainfall and I was confined in the apato. I taught of overhauling the whole apato. Give it a clean slate. Still not enough. Still got plenty of time in my hands. That is when I thought of trying out some splash photography.
As promised, I am writing how I did it. First, I bought a middle-sized aquarium (which is quite necessary in this game) and filled with water halfway. I then positioned the camera (around 3 meters away) and wrapped it with plastic for protection. To the left of the aquarium I set the flash at 1/2 35mm (note the harshness) and to the right at 1/8 35mm. The camera settings were 1/200 (maximum camera sync speed) at f11 ISO100. Of course, these are not fixed settings. Eventually as the experiment progressed I added some light modifiers (diffusers/grid) on the flash and adjusted the settings. With the camera, I played with 1/160 at f8 or f16. Now the crazy part. Set the camera timer, run to the aquarium and drop the lemon (or whatever caught your eyes inside the refrigerator). Boom! Repeat until tired. Have fun.
I arrived at Kofu via Minobu line around ten in the morning of October 30, rode the bus heading for Mitake Shosenkyo. Dropped off near the Nagatoro bridge and walked the 4-kilometer hike trail up to the foremost attraction of the the gorge. Kakuenbo, a giant rock almost 180 meters in height, and the Sengataki fall. The trail along the Arakawa river provides landscape preludes with its various named shaped rocks.
Two photo opportunities in November I was keenly watching out for were the Halloween parade in Kawazaki and the Daidogei. The Halloween parade was fun. Also re-connected with old friends and got acquainted with new faces in the process.
Went back to Shizuoka with Manong Ben, Totomai, Daryl and Rance who also wanted to shoot the Daidogei. The following day, instead of going to the event early, we got caught up with Totomai posing for some grunge plumber-themed shots.
Daidogei was quite disappointing. All same acts. Few foreign performers, contortionist and some aerial acts were of interest to me.
The good part was that Rya was coming back soon and I got to be re-united with Ken. Happy days are here again and I am to assume the role of a full-time father. With Rya's vacation extended by university rules (if you have been outside the country... blah blah blah... you need to quarantine yourself for 10 days... blah blah blah), we get to enjoy our time together before winter.
By the way, let me share a few perks of a full-time father. Someone gets to greet you "gawdmarning" everyday. You lose pounds over carrying and chasing a hyperactive son. You get kissed everytime you wanted to. All your childhood bed-time stories being re-told almost every night. And yes, a new shared "hobby" to bond with.
We all know that the last two weeks of December are the busiest time of the year. Gastronomically speaking. The almost never ending Christmas parties with friends and family. Even in the quiet night of a Japanese New Year's Eve we were still celebrating with food. Keeping that all time Filipino tradition of gracing the dinner table with twelve different kinds of round fruits.
At around three in the afternoon of January 2, I cycled heading to the shores of Miho no Matsubara. Also famous for the scene of a Japanese Noh play, Hagoromo. A story about a tennin (heavenly siren) compromised to perform a celestial dance when a fisherman discovers by chance her magical feather shawl. Designated as one of the Shin Nihon Sankei (New Three Views of Japan) together with Hokkaido's Onuma Kokutei Koen and Oita's Yabakei.
My trip to Ishikawa was one of haste. Kanazawa jo. The initial plan was to stay in Kanazawa for 2 or 3 nights and visit other castles in the area. I did get some descent shots of the Hishi yagura, Gojikken Nagaya &
Hashizume-mon Tsuzuki Yagura with the snow covering the castle grounds
, but time was really not on my side with this one day trip. I skipped entering its halls just to see other points of interest but was even hindered the more with a drizzle. Frustrated, I retreated and was even stranded in Hamamatsu. What a waste. Well, I guess I have to visit this area some other time. Lesson learned. Such is life.